Words by Masaharu Taniguchi
Translation by Xene Inc.
Hokkaido Museum Special Exhibit 'Let's Go to a Geopark!'
From July 9 to September 25, a special exhibit is underway at Hokkaido Museum in Sapporo entitled "Let's go to a Geopark! Dinosaurs, Ammonites, Volcanos — a Journey to Find the Mysteries of the Earth." The idea is to search anew for the appeal of Hokkaido's nature, history and culture from the angle of a geopark. This exhibition, which is getting attention throughout Japan, involves extensive partnerships with five geoparks in Hokkaido.
"We would like people to come to Hokkaido Museum this summer with their families and look at the exhibit, then actually visit geoparks throughout Hokkaido," says curator Kenichi Kurihara.
The project consists of six chapters. Chapters 1 to 3 cover the world of extinct plants and animals, including ammonites and mosasaurs, which were common in ancient Hokkaido. They also talk about exploring the way Hokkaido came into existence through changes in the earth's crust and rocks and minerals. Chapter 4 has an explanation of the relationship between the earth and the regional industries of today including agriculture, wineries and fisheries. And Chapter 5 takes on Hokkaido before recent times starting with meanings of Ainu place names, using Takeshiro Matsuura, an explorer of the closing days of the Tokugawa shogunate, as an entry point. The final chapter, Chapter 6, is a specific call to visit five geoparks in Hokkaido.
"I want people to know that Hokkaido is a center of the study of Japan's extinct plants and animals," says Kurihara.
To think about the world more fundamentally
With geoparks, you can use a new method to tie together and compile the region's history, industry and way of life.
Geoparks exist and are active as the very bottom layer of society that should be referred to in proactively looking for the best future for the region in the land and way of life.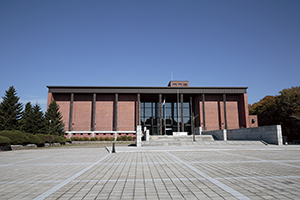 Hokkaido Museum


53-2 Atsubetsucho Konopporo Atsubetsu-ku, Sapporo, Hokkaido, Japan
Website