Corporate edition/The manufacture and sale of rubber boots
Products born from craftsmanship
vol.8
Murakami Takayuki , sales manager, Dai-ichi Gomu Co., Ltd. / Otaru City
Many manufacturers produce rubber boots overseas, but Dai-ichi Gomu Co., Ltd. continues its policy of producing "slip-proof rubber boots" made in Japan.
Words by Yajima Azusa  Photographs by Ida Yukitaka
Translation by Xene Inc.

Hokkaido's rubber industry began in Otaru
In 1909, the UK company Dunlop established its first tire factory in Japan, in Kobe, where international trade thrived. The potential for rubber in Otaru was spotted by a textile wholesaler in Toyama, who had the idea of fitting slip-resistant rubber soles onto the bottom of Japanese-style tabi socks.
Dai-ichi Gomu's founder, Hamamura Yoshitaro studied rubber composition in Kobe and often visited Otaru as a salesman after joining a company in Tokyo. Hamamura identified the potential in Otaru, which at the time flourished as the economic center of Hokkaido. In 1935, he established Dai-ichi Gomu.
Hokkaido's only producer of rubber boots made in Japan, Dai-ichi Gomu remains in the same location as when it was established. In the past, there were many rubber factories in the vicinity, an area where approximately 3,000 people were employed.
"In the peak period around 1965, this company also had about 500 employees," says sales manager Murakami Takayuki."
One of Dai-ichi Gomu's selling points is that the boots do not slip on slopes in winter. Some boots even feature double-spike soles mixed with ceramic and studded with steel pins, which were developed 24 years ago as the most slip-proof soles. The dangers of slippery slopes are well known by everyone in Hokkaido.
The time and trouble taken ensures good quality
While taking a tour of the factory, what was surprising was that it is impossible to produce rubber boots without some work being carried out by hand. I was under the impression they were mass produced using the latest machinery but, in fact, the skills of craftsmen and women are required. "Rubber is a living substance; its elasticity varies according to the temperature and humidity on each particular day, so it is necessary to adjust the force required to pull the rubber, by hand. Robots and machinery can only work to a fixed strength so we have to rely on humans."
Here is an explanation of the process of making a pair of rubber boots: First, the raw-material rubber mixture is stretched into a flat sheet, from which the sole and main parts of the boot are made. The lining is then placed over the mold and the rubber parts are stuck on.
"The most difficult part is joining the sole and the main part of the boot. Japanese people are suited to doing the delicate and elaborate work of joining the curved and uneven parts properly."
Once all the parts have been stuck together, they are placed in apparatus known as a vulcanizer, and heat and pressure are applied. This gives the rubber elasticity, resulting in more durable boots. When the vulcanizing is complete, the boots are removed from the mold and the excess rubber is trimmed. Finally, they are sewn and waterproof testing is carried out.
Murakami spoke to consumers at a department store in Sapporo. "I thought that slip-proof rubber boots were aimed at senior citizens, but soon found out there was a strong demand from younger generations and mothers who carried babies. So that will be helpful with regard to product development," he enthused.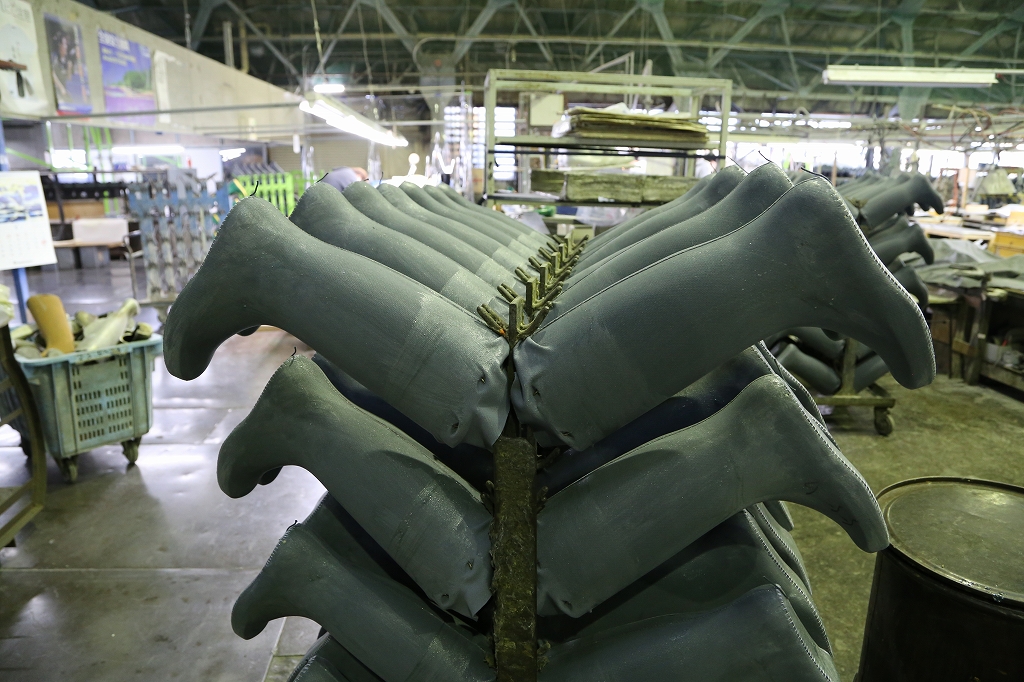 Dai-ichi Gomu Co., Ltd.


Okusawa 3-chome 29-32, Otaru, Hokkaido, Japan
Tel.: 0134-22-5161
Website