Manufacture and Sale of Wheelchairs for Dogs
The key is to envision the pain faced by dogs
vol.18
Takagi Hiroyuki of ONE OFF PRO. Ltd / City of Sapporo
As Japan raises more and more pets, the average pet age continues to rise. Mr. Takagi Hiroyuki manufactures wheelchairs and other equipment to bring joy back to the lives of dogs and cats in need of care or aid.
Words by Yajima Azusa
Photographs by Ida Yukitaka
Translation by Xene Inc.

Learning from a beloved pet
Mr. Takagi started making wheelchairs for dogs twelve years ago, when his pet French bulldog, Ryu, lost movement of his back leg due to a slipped disc. At the time, wheelchairs for dogs were predominantly manufactured overseas, and very costly. For lack of other choice, Mr. Takagi was inspired to build his own. With his experience working at an equipment manufacturing company, he thought that, to some extent, he had the tools and skills for the job.
However, completing the wheelchair took more time and effort than he had expected. With a smile, Mr. Takagi recalls, "Dogs cannot talk. I didn't understand what needed improvement, much less how to improve my designs. My only reference was a single photograph from an overseas manufacturer's website. Through extensive trial and error, after 67 modifications, Ryu could at last walk again. After coming to a deadlock midway, I studied books on veterinary medicine, and discovered a vertical movement that could avoid causing stress on the lower back. A wheelchair must do much more than simply move forward. It took me two years to complete."
A difficult issue is fitting the torso. If the dimensions are even slightly off, the dog will feel discomfort, and in a display of rejection, will refuse to walk. Of course, it is essential to carefully take measurements for each dog, but in order to make the best wheelchair, it is also necessary to thoroughly understand the individual dog's symptoms, living environment, and habits. Mr. Takagi explains, "If the leg is completely immobile, it's best to slightly raise the harness which connects the body to the wheelchair, in order to prevent chafing of the leg. If the leg has even a small amount of mobility, it's best to establish enough contact between the leg and the ground to allow walking for rehabilitation. The wheelchair becomes an essential part of the dog's life, so must be given serious consideration."
Finding the best solution
Mr. Takagi tells us, "Animals are the same as humans. We feel discomfort if something is attached to our bodies. Before this job is possible, we must first envision the pain and feelings experienced by dogs. I constantly consider what arrangement will best suit the needs of each dog."
By implementing the double wishbone configuration seen in cars, Mr. Takagi succeeded in developing a wheelchair capable of preventing hernia recurrence. The equipment is finely tuned for not only horizontal movement, but also for vertical movement, stabilizing the lower back and eliminating pressure upon the back leg. Through continued use, some dogs regain the ability to walk with only minimal dependence on the wheelchair.
A system to support elderly owners
Mr. Takagi explains that, for each wheelchair he creates, "This is an aid device to support rehabilitation. I adjust the wheelchair to fit the dog's body, but from there, the trusting relationship between owner and dog has a major role." Regardless of the dog's personality, it takes about three months of training before the dog begins to use the wheelchair. Of all the wheelchairs he has created, not one dog has failed to use their wheelchair.
While still in the conceptual stage, Mr. Takagi is working on developing an arrangement that will allow the dog to lay down when it becomes tired, while still attached to the wheelchair. He thinks that a combination of AI and miniature monitor technology to observe dogs' movements may lead to success. Dedication and determination show on Mr. Takagi's face as he speaks passionately. "There are more and more cases of elderly owners becoming unable to care for their dogs. I hope to also establish a system that will support elderly dog owners and their beloved pets."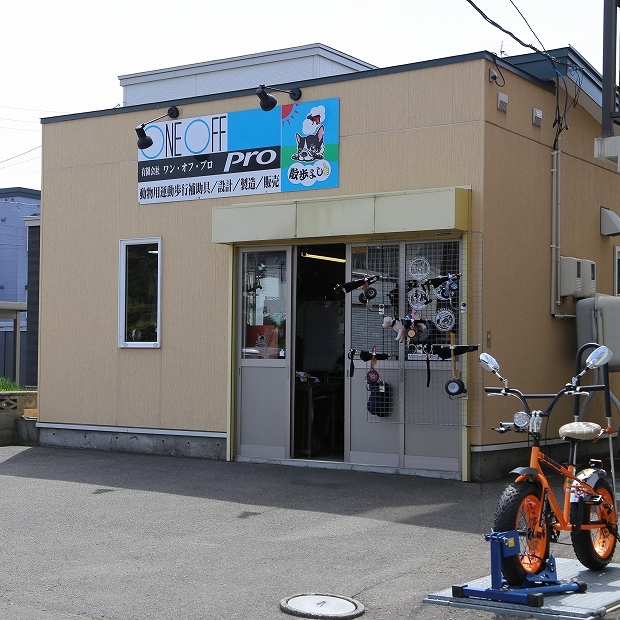 有限会社ONE OFF PRO


Hours: 9:00 to 18:00(Saturday 17:00)
Closed: Sundays and public holidays
2-15 Kita 38-jo Higashi 6-chome Higashi-ku, Sapporo, Hokkaido, Japan
Tel. and Fax.: 011-752-2635
Website