Nurturing scallops and fishermen, too
in Otoshibe, Yakumo
Words by Yuka Mori
Photographs by Keiji Tsuyuguchi
Translation by Xene Inc.
Scallop fishing that supports Hokkaido's fishing industry
Among the delicacies of the sea in Hokkaido, scallops enjoy a stable popularity. Eighty percent of the scallops landed in Japan are landed here in Hokkaido, making it easily the most prolific producer nationwide. As fishing is currently going through a rough period, scallop "farming" is currently supporting Hokkaido's fishing industry as the typical form of aquaculture.
There are two main methods of scallop farming: wild ranching on the shallow seabed in the Okhotsk and Nemuro regions; and the ear-hanging method used in the Uchiura Bay on Hokkaido's Pacific coast. Uchiura Bay boasts abundant amounts of plankton, which is the source of nutrition for the scallops. Yakumo, located on the coast of the bay, is a town in which scallop fishing is the key industry, and the ear hanging cultivation method began there from around 1970.
Motokatsu Murakami of Otoshibe, Yakumo is a 3rd generation scallop fisherman who also gathers sea cucumber and kelp and fishes for Alaska Pollock. He would be sufficiently busy with aquaculture alone, but because scallop farming is both material- and labor intensive, other types of fishing are also necessary.
Scallop cultivation begins by attaching the spat floating in the sea, to a "seed collector". In June, the seed collectors are placed in the sea; the baskets are changed according to the growth of the spat, and the number of scallops is reduced while they are being nurtured in the sea. As spring approaches, the shore reaches its busiest period when the ear hanging work takes place. When the shells of the scallops have grown to approximately 5 cm, a hole is drilled in each one, string is passed through the hole and the string is attached to a rope. These are then attached to a thick rope that is hung in the sea until the scallops have grown to about 10 cm in diameter.
It takes approximately 2 years until the scallops can be harvested, during which time debris must be cleared from the shells, the buoys must be adjusted and the scallops monitored. It takes a substantial amount of time and energy for the plump, sweet scallops to reach the dinner table.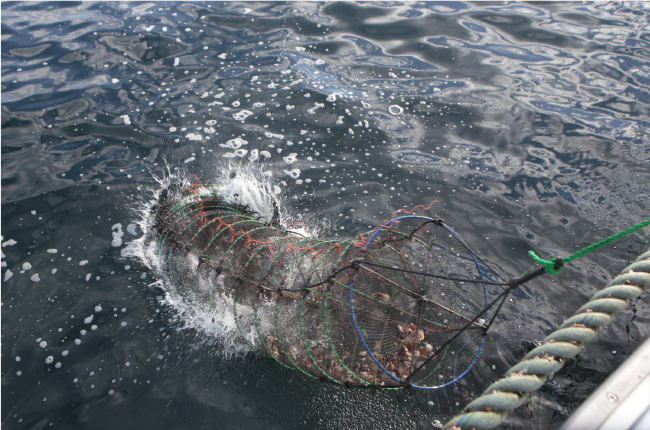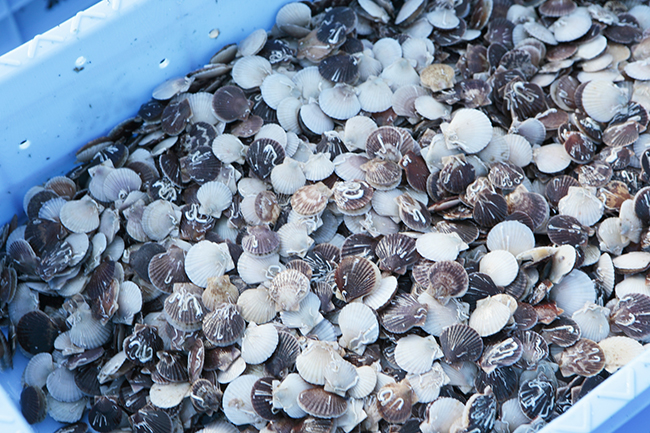 From being tossed about by the sea, to becoming the boss
Fishermen who own their own boats and who are in charge of activities are known as oyakata or bosses. Murakami is 40; for an oyakata that is very young, but his career as a fisherman is long.
"When I was in elementary school, it was normal for me to ride on the boat with my big brother and help with the work before school. I became a fisherman as soon as I graduated from junior high school."
Murakami was told by his father, an oyakata himself, to go and get some fishing experience, and at the age of 16 he joined a crab fishing crew in the toughest workplace in the world – the Bering Sea.
"We spent three months at sea," says Murakami. "The job was hard but it was interesting meeting all the different people that gathered there."
After that, Murakami went to Alaska to continue his training, which also included salmon processing. The turning point came when he was 26 years old, when his father became ill and it was his turn to take on the role of oyakata.
"I' d worked on the boat since I was a child, and knew what being a fisherman was about but was a little worried about being an oyakata myself."
Murakami married and had children and worked hard for his family. Six years after becoming an oyakata, he was able to own his own boat.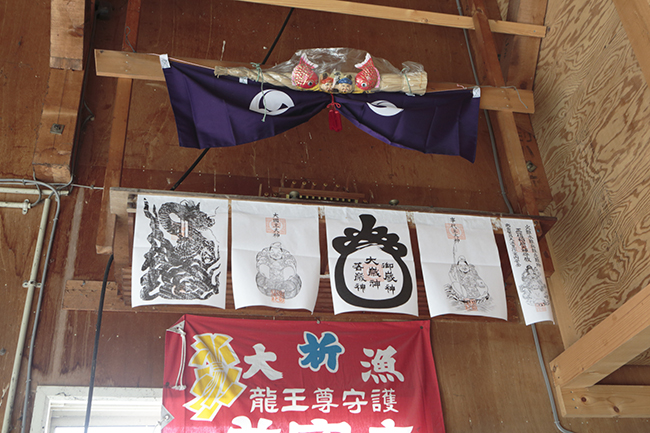 Return of the younger generations aiming to become fishermen
Under Murakami is a crew of seven, including family members. One of those is Naoya Matsuoka, who has worked as a trainee since this spring. Born and bred in Yakumo, Matsuoka went to Osaka to study at a marine technical school there, before returning to Yakumo after chancing upon Murakami's job advertisement while looking for aquaculture-related work.
"The boss is amazing – he can do anything himself. I'll not be able to be like him but I hope to become a fisherman someday."
Next to his boss, Matsuoka looks like he has some growing to do, but he has already acquired his boat pilot's license and is a young man who loves the sea and fishing.
The scallop fishing boat departs at 2 a.m. and returns around noon, approximately 10 hours later. The sea is a dangerous workplace with danger all around. Many people approach Murakami wanting to become fishermen, but the majority don't last long. Matsuoka is regarded as being a diligent worker. This is one of the qualifications required of people who work on boats, and now high hopes are being pinned on Matsuoka, who surely will be fine once he has acquired more experience and skill.
In the fishing industry, teamwork under the leadership of the oyakata is important. "It's interesting talking to lots of different people," says Matsuoka, who Murakami says has the right communication abilities, too.