Master Stain-remover
Focusing on People , Not Just Stains
vol.21
Sato Daisuke,President, Simiken Corporation (Shiminuki Kagaku Kenkyujo) / City of Sapporo
This specialist shop handles stains dry cleaners can't, and gets orders from all over Japan.
Words by Yajima Azusa
Photographs by Ida Yukitaka
Translation by Xene Inc.

Dry Cleaners Don't Have Time to Remove Stains
Simiken's main work is to remove stains that regular dry cleaning shops can't, or won't. Sato Daisuke, the owner and manager, used to work at one such large cleaning shop, and saw just how many customers needed serious stain removal. However, typical cleaning shops can't take jobs that require a lot of time and effort, which stain removal often does.
He decided in 2005 to strike out on his own and open his own stain removal shop. He collected information from all over Japan, and set to perfecting his stain removal skills by trying out all the latest techniques. However, the first three months went by without any profit, and he began to consider closing up shop. It was then that NHK, the Japanese national broadcaster, reached out. They wanted him to do a one-hour program introducing simple stain removal techniques people could do at home. That led him to being featured on a variety of television networks.
Stories Behind the Stains
Sato worked alone at first, but now he has two employees, to help with cleaning, and with customer service. There are still jobs only he can handle, though.
Orders come in from all over Japan, covering a huge variety of items: clothes with sentimental value, vintage pieces, or work clothes from fire stations or construction sites. Many orders come from restaurants and beauty salons, saying "We stained a customer's clothes!"
After fifteen years in the business, there are more stories than Sato can tell. One time, when he was out hiking in the mountains on his day off, an employee contacted him saying that a client was flying in from a Tokyo wedding chapel with an emergency removal request. A venue employee had apparently spilled a drink on a wedding guest's jacket. The client added, "The guest is flying back to Kumamoto [in far southern Japan] tomorrow, so we need it done today!" Sato says, "I couldn't say no, since they were flying all that way, convinced we could help," so he came down the mountain and headed back to Sapporo. After ten minutes' work the stain was gone, for fee of around 3,000 yen. It still makes him laugh to this day.
In another incident, a client came from afar and brought in a high-end luxury bag. The customer explained, sobbing, that "Our cat peed on our grandchild's girlfriend's bag!" It was his first attempt at cleaning stains from leather, but he took it anyway. "That first time led us to start cleaning leather regularly. So, thinking of it that way, it was a really lucky event," he recalls.
Without Me, Who Would Help?
"The real focus of my work isn't stains, it's people. I need to understand what my customers really want, and helping them deal with the shock of their problem is important," Saito says. He always makes it clear up front what process he will use, the time needed, and how much it will cost.
"I imagine every single item that comes in here is important to someone. I keep going because without me, who would help these people?" Sato says, and goes back to work.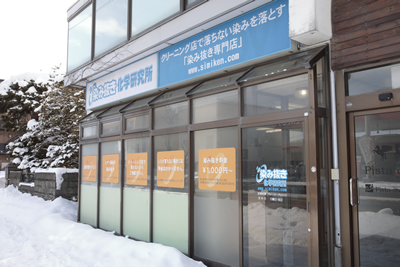 Simiken Corporation (Shiminuki Kagaku Kenkyujo)


Hours: 13:00 to 18:00
Closed on Sundays and Public holidays
Pista Building 1st Floor, Chuo 1-jo, 5-chome 5-7, Shiroishi-ku, Sapporo, Hokkaido
Tel.: 011-863-4374
FAX:011-850-9934