The Pattern Designer
Creating feelings of summer in patterns in winter
vol.12
Oka Rieko of Ten to Sen / City of Sapporo
You can feel the colors and air of Hokkaido in the patterns produced by Rieko Oka. We learned about the process of her pieces up to completion.
Words by Yajima Azusa
Photographs by Ida Yukitaka
Translation by Xene Inc.

Only patterns remained
"It's not like drawing pictures." I didn't understand what she said and had to make sure what those words from a pattern designer meant. So, she told me about the time she spent as a student in Asahikawa. She started in "space designing" that she learned at university. Her study theme was "wallpaper." The teacher instructed her, "For space designing, you can learn more about the patterns that influence people from wall papers than from interior designing, which is easily replaced."
She tried to imitate British William Morris, "the father of modern design". Oka reproduced Morris' wall paper on a woodblock, and learned about pattern composition and how to make it.
However, transmitting the colorful and distinct patterns of wallpaper in Japanese life is difficult. After she graduated, Oka worked part-time, but she thought "Patterns are the only thing I have," and started her own career as a fabric pattern designer in 2008.
Turning out ideas
Oka's process to produce patterns is unique. She does not design scenes and plants in front of her, but keeps the words from memories in her heart, and spreads out her imagination as a picture book. For example, if she finds footprints of a fox in the snow, she then imagines a story about a fox coming down from the mountain, walking around town, and then returning to the mountain. She turns that idea into what is seen from the viewpoint of the fox.
Listening to the radio while working. "It's music someone else likes and requested, not me." And from postcard received from all over Japan, "I remember, I used to be like that." Patterns sometimes come to mind in those kinds of situations.
The colors of Hokkaido are clear
Original drawings are first handdrawn or paper cutouts. She uses different painting tools depending on what she wants to draw. For example, if she wants a more detailed touch, she uses water colors, for bold patterns she uses crayons, and for stitching, pencils or ballpoint pens.

One or two patterns are released as new products each year. To participate the sales event held all over Japan in April to June, she starts preparing new productions a year earlier. "My customers say that our products have the colors and atmosphere of Hokkaido. It may be seen more clearly, because the air is clearer than that on Honshu, so the colors also feel brighter when the town is covered by snow in winter."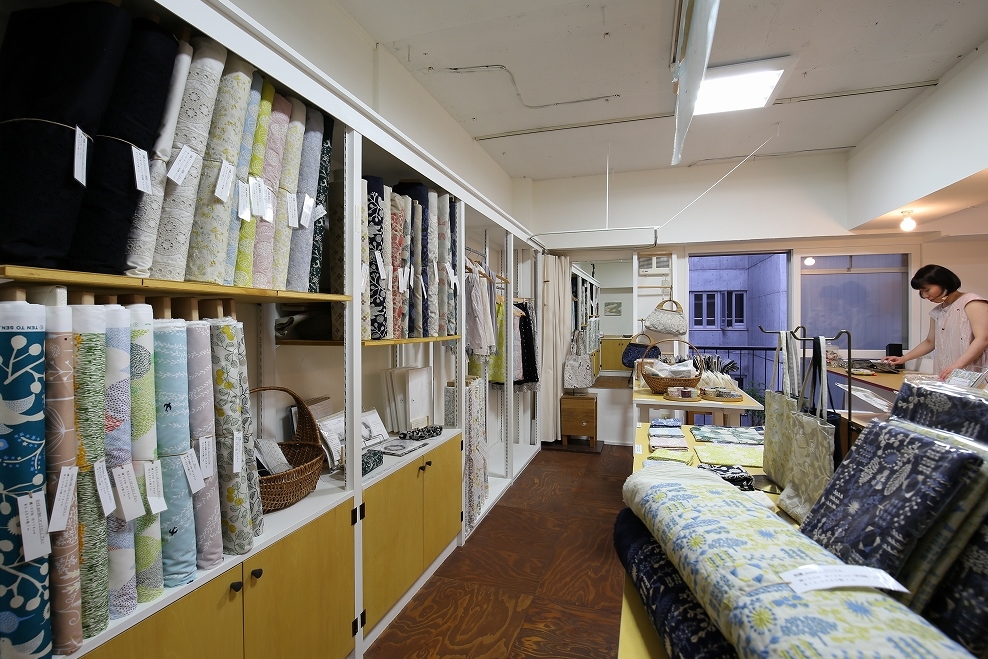 Ten to sen


Château le rêve 306, 1-319 Minami 1-Jo Nishi 15-Chome
Chuo-ku, Sapporo, Hokkaido, Japan
Hours: Thursday-Sunday 12:00 to 18:00
Tel.: 011-215-6627 
Website