Two years ago marked the 50th anniversary of the founding of NOGUCHI KANKO, the developer and operator of a number of popular resort hotels. We talked to the company's CEO Hideo Noguchi about the secret to its popularity.
Part 1
[Basic Philosophy]
NOGUCHI KANKO prides itself on change and speed.
It is no easy task to stay ahead of the ever-changing needs of our guests. I believe that it is important to make an effort to never fall behind in this matter. As the company's chief executive, it is incredibly rewarding to see the efforts made by our employees resulting in guests embracing our hotels.
The motto of our company is "Fresh and Fast." To a hotel, nothing is more important than getting the repeat business of our guests. My predecessor, the company's founder, believed that "cordial service" was NOGUCHI KANKO's most valuable commodity. This remains to true to this day, and cordial service continues to be our most important commodity.
In order to realize this cordial service, we have to face guests with the same fresh feeling every day, while also having the agility to change quickly to meet their needs. NOGUCHI KANKO prides itself on having the agility to make quick changes all while our delivery of cordial service remains unchanged. If we are consistently able to make the efforts needed to maintain this level of pride, our hotels can become an amazing place to work. This is because our employees will have the opportunity to see the smiles of guests, learn a great deal from conversations with them, and take wonderful memories home with them.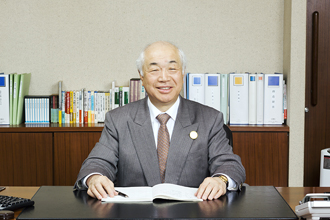 * In the next issue, we will take about company's [Three product lines].