VELO TAXI SAPPORO – a mode of transport to experience the city air
By Ayaka Tsutsumi
PUBLISHED October 5, 2016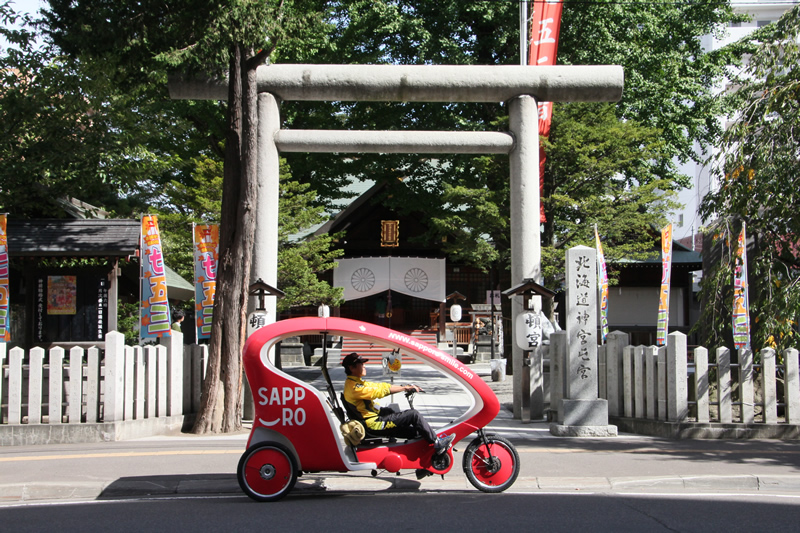 For tourists who want to see the sights of downtown Sapporo, I recommend a velo taxi. Velo taxis are taxis that utilize bicycles originating in Berlin, and have been operating in Sapporo since 2008. They are now familiar among the locals as one of the faces of Sapporo.
Perhaps one of the best things about this mode of transport is being able to talk and listen to the unique drivers. Almost all of them can speak English, so please feel free to use their services; just raise your hand when you see one. The best chance of spotting one of the distinctive vehicles is probably around Odori 4-chome (West 4), by the Sapporo Clock Tower, near the TV Tower or near other popular tourist spots.
Also, at the Food & Tourism Information Center on the West Concourse of Sapporo Station, information is available on model tour routes that depart from the station. The route that takes in the old buildings in the area on the eastern side of the Sosei River is especially recommended, as you can get to know present-day Sapporo while coming into contact with the city's history and culture.
Why not check out the operating times and areas on the website, or by phone?
Tel.: 080-4075-7806 (Eco Mobility Sapporo)
VELO TAXI SAPPORO