Mitsui Garden Hotel Sapporo West (hereafter referred to as West) – Hokkaido's second facility of the Mitsui Fudosan Group's Mitsui Garden Hotels brand being developed throughout Japan – opened on Thursday, February 20th. Added to the ease of access, located just a 4-min. or so walk from JR Sapporo Station, designs conveying Hokkaido's traditional beauty are incorporated throughout the interior, offering a refreshing high-quality accommodation space in which to reflect on your travels.
West, which stands adjacent to the west side of the Mitsui Garden Hotel Sapporo, the highly appraised hotel featured in the Michelin Guide Hokkaido 2017 Special Edition, is conspicuous for its tiled exterior, modeled on the red bricks familiar from Hokkaido's development period. A stairwell from the first-floor lobby leads to the second floor, which houses Sankakudo, a café restaurant that offers a buffet-style breakfast serving dishes brimming with Hokkaido ingredients, as well as a grand bathhouse in which to soothe away the fatigue of your travels. Sankakudo is produced by GAKU Inc., the company behind numerous resort specialist establishments and nighttime parfait bars in Hokkaido and Tokyo. Don't miss the special "adult crepe plate," which is available after 12 noon.
Based on the concept of "a hotel that makes you want to travel," the establishment aims to make each individual guest's trip even more fun by materializing their desire to know more about Hokkaido and enjoy Hokkaido even more, at hotel brimming with Hokkaido characteristics.
What's more, the restaurant is available for use by non-overnight guests. We look forward to welcoming locals to this new spot where delicious crepes can be eaten amid chic, photogenic surroundings.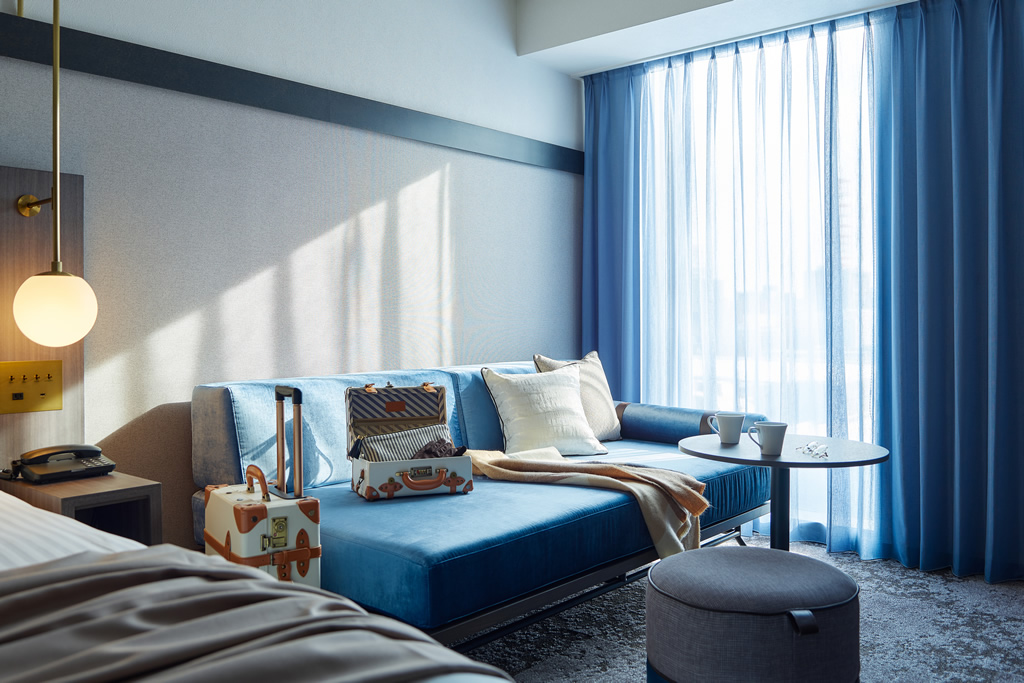 Mitsui Garden Hotel Sapporo West
Address: Kita 5-jo Nishi 6-2-4, Chuo-ku, Sapporo
Access: approx. 4-min. walk from the west ticket gate of JR Sapporo Station
Scale/guestrooms: 13 floors above ground level, 169 guestrooms
Tel.: 011-218-2231
Official website: https://www.gardenhotels.co.jp/sapporo-west/
Café Restaurant Sankakudo
Breakfast opening hours: 6:30–10:00 (last admission 9:30)
Café opening hours: 12:00–20:00 (last order 19:30)